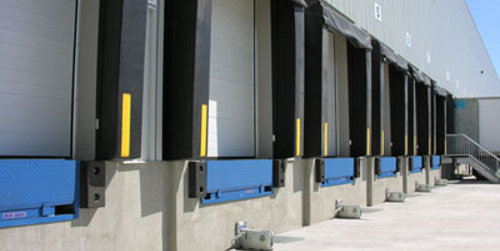 Mid-Florida Dock Equipment
In order to facilitate material handling, loading docks may be equipped with the following:
Bumpers - protect the dock from truck damage, may also be used as a guide by the truck driver when backing up.
Dock leveler - a height-adjustable platform used as a bridge between dock and truck, can be operated via mechanical (spring), hydraulic, or air powered systems.
Dock lift - serves same function as a leveler but operates similar to a scissor lift to allow for greater height adjustments.
Dock seals - compressible foam blocks against which the truck presses when parked; seals are used at exterior truck bays in colder climates where this will provide protection from the weather.
Truck or vehicle restraint system (dock lock) - a strong metal hook mounted to the base of the dock which will hook to the ICC bar of a trailer and prevents it from pulling away during loading operations. It can be operated via manual, hydraulic, or electrical systems; this system can replace or work in conjunction with wheel chokes.
Dock light - a movable articulating light mounted inside the dock used to provide lighting inside the truck during loading operations.
Indicator lights that show truck drivers when to back in or pull out.
Loading dock software - provides a method for tracking and reporting on the loading dock activity.
Warehouses that handle palletized freight use a dock leveler, so items can be easily loaded and unloaded using forklifts and pallet jacks. When a truck backs into a loading dock, the bumpers on the loading dock and the bumpers on the trailer come into contact but may leave a gap, also the warehouse floor and the trailer deck may not be horizontally aligned. In North America, the most common dock height is 48–52 inches (120–130 cm), though heights of up to 55 inches (140 cm) occur as well. A dock leveler bridges the gap between a truck and a warehouse to safely accommodate a forklift.
Where it is not practical to install permanent concrete loading docks, or for temporary situations, then it is common to use a mobile version of the loading dock, often called a yard ramp.
---
VIEW MID FLORIDA MATERIAL HANDLING'S ONLINE BROCHURE BY CLICKING BELOW!
---